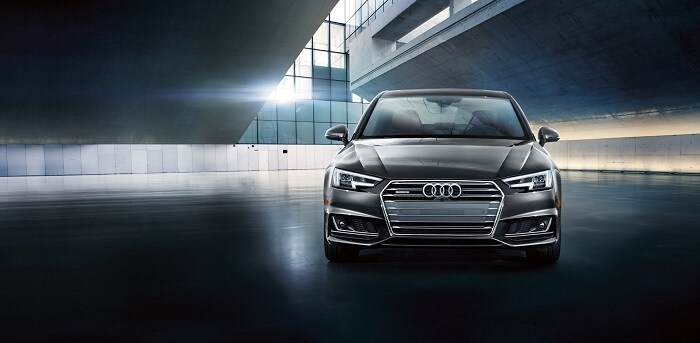 From the moment that you come in to see us at Audi Baton Rouge, you will be greeted with smiling sales representatives and a smart selection of brand new Audi cars. At your local Audi dealership, you will find that test driving the all-new 2017 Audi A4 will be a wonderful experience.
Model details

Engine: 2.0-liter engine

Power: 190 horsepower, 236 lb-ft torque

Transmission: 7-speed dual clutch automatic

 Safety/Special Features:

-Crash Mitigation Technology

-Forward Collision Warning

-Blind Spot Monitoring

-Parking Sensors

-Bluetooth Connectivity

-Sunroof

-Satellite Radio
2017 Audi A4 Pacifica Details
When you are craving progressive luxury and innovative intelligence, you will find exactly what you are looking for in the 2017 Audi A4 at our Baton Rouge, LA Audi dealership. This is a stunning vehicle that great rear seat space and notable turbocharged power.
In terms of powertrain, you have a four-cylinder 2.0-liter engine that is available in two different tuning options. The Audi A4 Ultra will give you 190 horsepower along with 236 lb-ft of torque.
You also have the option of the Audi A4 model that will bring you up to 252 horsepower and 272 lb-ft of torque.
The latter features a 7-speed dual clutch automatic transmission, while there is also a 6-speed manual transmission that is available.
2017 Audi A4 Safety and Special Features
Of course, you can never shop for a new Audi car without learning about impressive safety features. The 2017 Audi A4 even gets impressive scores across the board with the major safety reporting agencies.
Safety features for this beautiful sedan include crash mitigation technology, a standard selection of air bags, stability control and available all-wheel drive.
Optional safety features include automatic emergency braking, forward collision warning, blind spot monitors, lane keeping assist and parking sensors.
Buyers have the ability to fully customize their ride with options like power features, Bluetooth connectivity, USB ports, sunroof, power front seats, satellite radio, navigation system, LED headlights, premium infotainment upgrades, and smart technology.
Buying a 2017 Audi A4
When you stop by our dealership located on 11955 Airline Highway in Baton Rouge, LA, you will have the chance to customize a new vehicle to your liking. For information on current pricing, our new Audi car inventory, and the ways that we can help you with financing, all you have to do is give our sales team a call. We will be happy to set you up with a time where you can take a test drive!